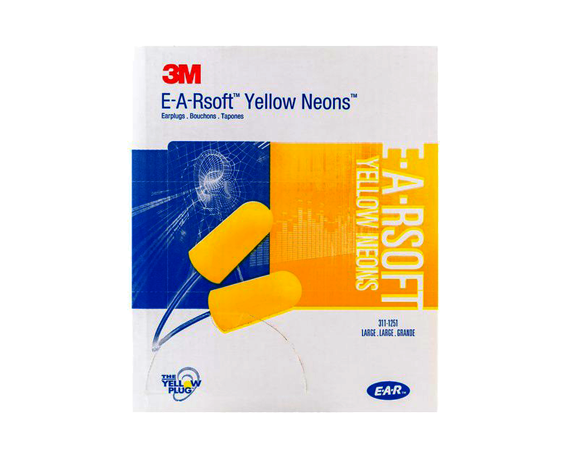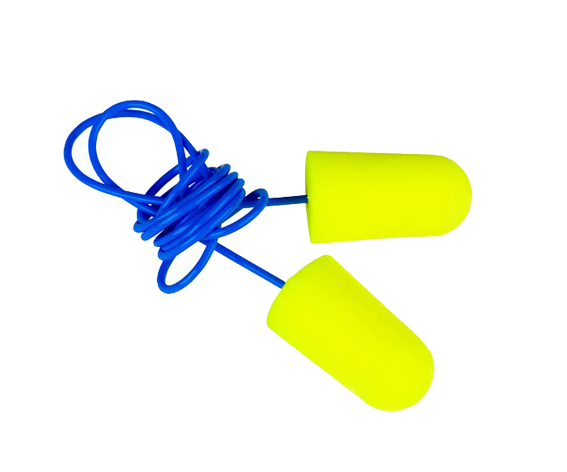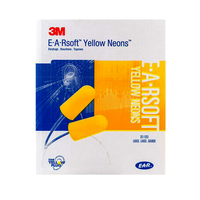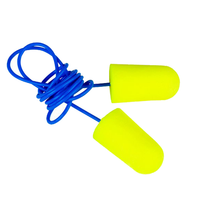 3M E-A-R Soft Large Corded Earplugs 23db CL4 200PK 311-1251
E-A-Rsoft Yellow Neons have a smooth texture for in-ear comfort and are made of an advanced foam formulation for all-day wearabillity. Offered in two sizes to comfortably fit in a wide range of ears, these high attenuation earplugs are ideal for many different noisy applications. Brightly colored for hearing protection compliance sighting, E-A-Rsoft Yellow Neons earplugs are an excellent choice for any hearing conservation program.
The 3M™ E A Rsoft™ Yellow Neons Earplugs, seal the earcanal with soft, slow recovery foam for excellent noise reduction and reliable hearing protection. The tapered earplugs are easy to roll down and insert, then expand within the earcanal for a comfortable, secure fit. Earplugs come in a poly bag to keep them clean prior to use. Recommended applications include assembly and mechanical, chipping, chiseling, cleaning, drilling, furnace operations, grinding, heavy equipment operations, machining, metal repair, painting, pouring/casting, power fastening, riveting, sanding, sawing and welding. These earplugs are commonly used in the following industries: agriculture, automotive, chemicals, construction, general manufacturing, healthcare, oil and gas, and pharmaceuticals.
These earplugs have a Noise Reduction Rating (NRR) of 33 dB. Earplugs are made of a polyurethane. Test compatible with 3M™ E A Rfit™ Validation System. The NRR may overestimate the hearing protection provided during typical use. 3M™ recommended reducing the NRR by 50% for estimating the amount of noise reduction provided.
Not only is noise present in our daily routines and recreational activities, but upwards of 5 million Americans, possibly as many as 30 million, work in hazardous noise on a daily basis. Estimates from the National Institutes of Health suggest that hearing loss afflicts 28 million Americans. About one third of those cases are at least partially attributable to noise. Hearing loss due to noise is almost entirely preventable by judicious use of hearing protection. Hearing protector effectiveness is specified by a Noise Reduction Rating (NRR), typically ranging from 15 35 decibels.
Soft, low-pressure solution

Soft, pliable foam offers comfort for wearing over an extended time

Earplugs are easy to roll down for quick and easy insertions

EARfit Testable
Approved to AS/NZS 1270:2002
Class 4