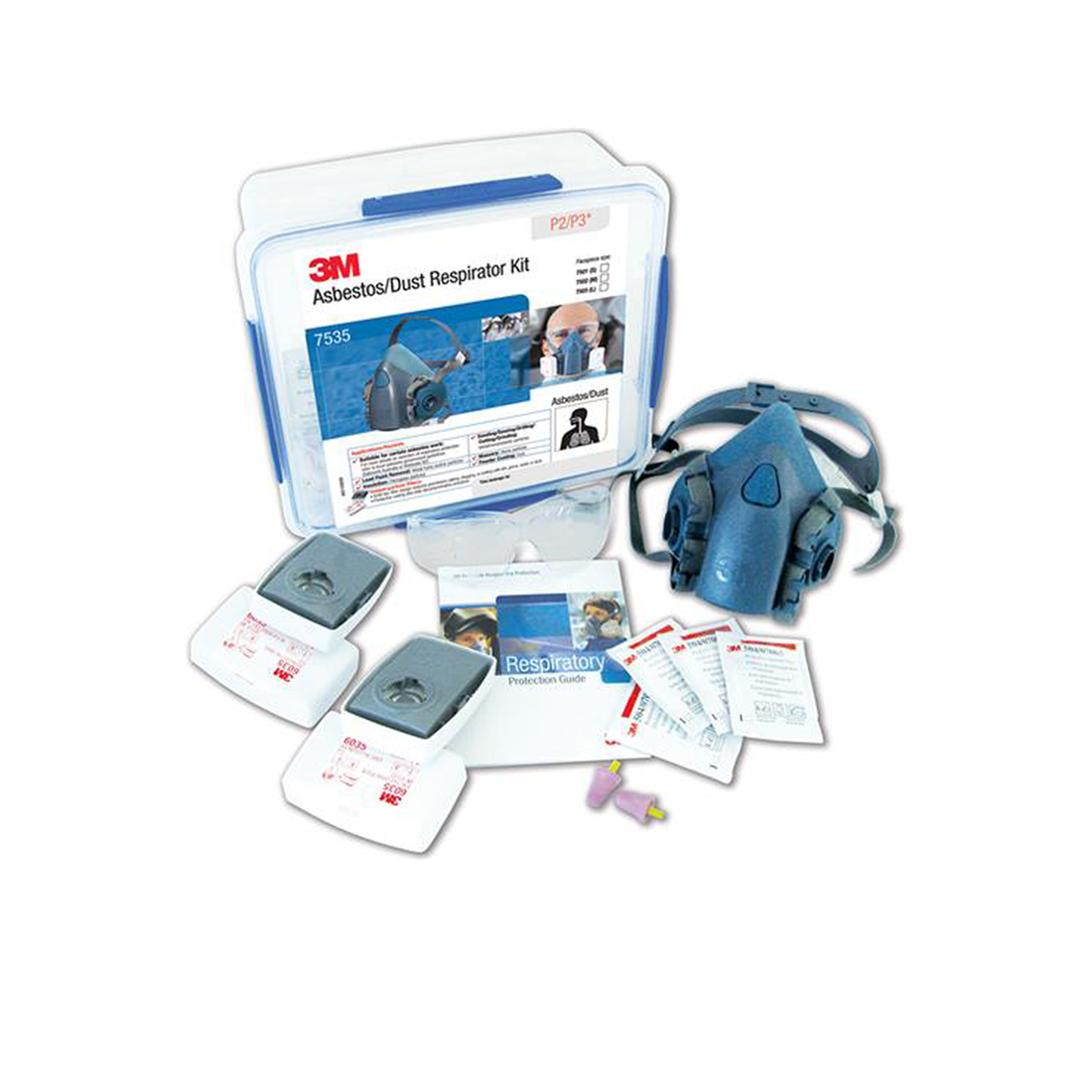 3M Asbestos/Dust Respirator P2/P3 Kit 7535
3M Asbestos/Dust Respirator P2/P3 Kit is a c
onvenient kit designed for asbestos removal and environments containing dust. The kit comes complete with the 3M™ Half Face Reusable 7500 Series Respirator for comfort and durability. It also includes two pairs of 3M™ Particulate Filters 6035 P2/P3*. The unique solid top particulate filter casing design reduces premature caking and clogging from dirt, grime, water or dust. The protective casing also aids decontamination practices.
Specifications
Cartridge or Filter Rating: P2/P3*

Connection Type: Bayonet

Facepiece Type: Half Facepiece Reusable

Product Series: Half Facepiece 7500 Series

Kit Contains:
1 x 3M™ Half Face Respirator 7500 Series
2 x pair of 3M™ Particulate Filters 6035 P2/P3*
1 x pair of 3M™ SecureFit™ 200 Series Safety Glasses, AS/NZS1337.1 Medium Impact
4 x 3M™ Respirator Cleaning Wipes 504
1 x 3M™ No-Touch™ Foam Earplugs P2000, Class 4 (SLC80: 25dB)
Handy Storage Container

*Higher P3 protection factors only achieved with a 3M Full Face Respirator, otherwise P2 protection level when worn on a 3M Half Face Respirator.

Note: Images & content description supplied by manufacturer and correct as of 22/04/2021, but may vary depending on component availability or changes to OH&S codes.
Suitable for certain asbestos work: Refer to local asbestos government guidelines (Safework Australia or Worksafe NZ)
Protection Factors

Note that any filtering respirator should not be used for protection at airborne concentrations of contaminants above the relevant IDLH levels.

This cartridge/filter, when used for protection against the contaminants as specified, is capable of providing the following protection levels:
With a 3M 7500 Series Half Face Respirator: 10 times the Workplace Exposure Standard (WES) or 30 ppm, whichever is the lower

Kit also contains 3M™ Eyewear, 3M™ Respirator Cleaning Wipes, 3M™ Earplugs and a handy storage container
Cool Flow™ Valve helps reduce heat build-up by allowing warm, exhaled air to escape
Bayonet-style connection fits a broad range of filters